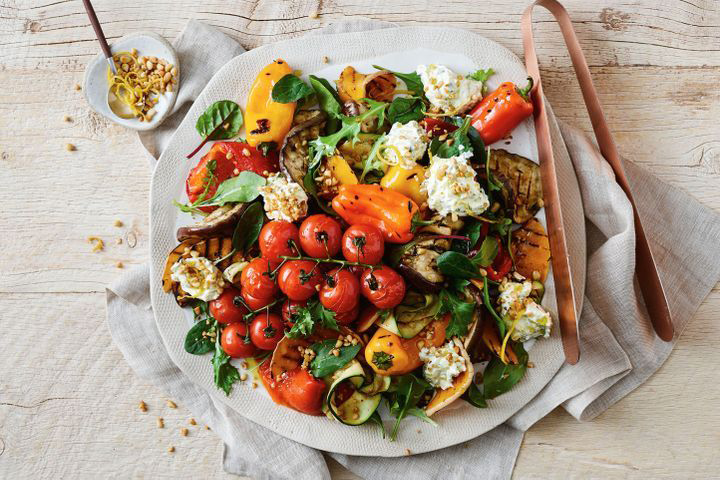 Chargrilled vegetable salad with whipped basil fetta
INGREDIENTS
2 red capsicums
2 small zucchini, thinly sliced lengthways
250g butternut pumpkin, thinly sliced
1 small eggplant, thinly sliced into rounds
2 teaspoons fresh thyme leaves
2 tablespoons garlic-infused extra virgin olive oil
200g cherry truss tomatoes, cut into portions
175g mini capsicums
2 tablespoons pine nuts, roughly chopped
1 teaspoon lemon zest
50g mixed salad leaves
WHIPPED BASIL FETTA
200g fetta, crumbled
1/4 cup thickened cream
1 tablespoon extra virgin olive oil
1 tablespoon lemon juice
2 tablespoons finely chopped fresh basil leaves
Step 2
Heat a barbecue grill or chargrill pan over high heat. Cook red capsicum for 4 to 5 minutes each side or until tender and skin is blistered and blackened. Transfer to a snap-lock bag. Seal.
Step 3
Add pumpkin, zucchini and eggplant to grill. Cook pumpkin for 3 to 5 minutes each side, and zucchini and eggplant for 2 to 3 minutes each side, or until vegetables are charred and tender. Transfer to a bowl. Add tomatoes and mini capsicums to grill. Cook for 2 to 3 minutes or until beginning to char and collapse. Set aside to cool slightly.
Step 4
Meanwhile, make Whipped Basil Fetta: Place fetta, cream, oil and lemon juice in a small food processor. Process until smooth, scraping down sides (do not over-process). Transfer to a bowl. Add basil. Season with pepper. Stir to combine.
Step 5
Heat remaining oil in a small frying pan over low heat. Add pine nuts. Cook, stirring, for 3 to 4 minutes or until just golden. Add lemon zest. Cook for 1 minute.
Step 6
Peel and discard skin from capsicum. Add to vegetables in bowl. Add salad leaves. Toss to combine. Arrange mixture on a serving plate with tomatoes and mini capsicums. Dollop with whipped fetta and sprinkle with pine nut mixture. Serve.