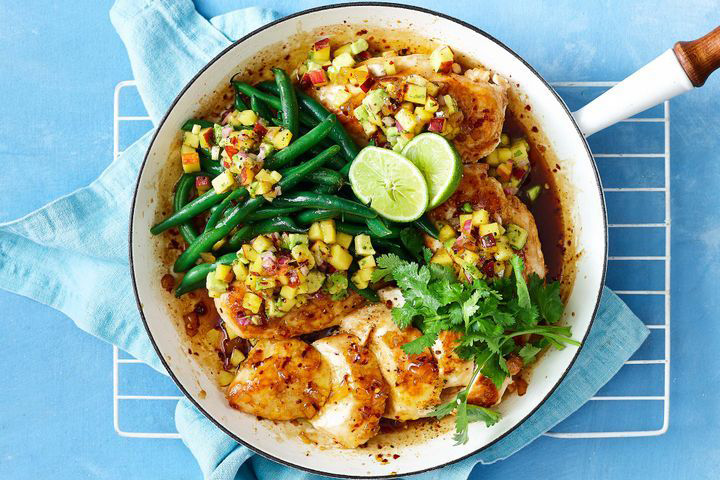 Sticky ginger chicken with peach salsa
INGREDIENTS
1/3 cup ginger marmalade
2 tablespoons Worcestershire sauce
1 garlic clove, crushed
1/2 teaspoon dried chilli flakes
1 tablespoon extra virgin olive oil
Olive oil spray
4 single chicken breast fillets
Lime halves, to serve
Steamed green beans, to serve
Cooked rice, to serve
PEACH SALSA
5 yellow peaches, stones removed, cut into 1cm pieces
1 avocado, cut into 1cm pieces
1 small red onion, finely chopped
2 tablespoons finely chopped fresh coriander leaves, plus extra sprigs to serve
2 tablespoons lime juice
1 tablespoon extra virgin olive oil
METHOD
Step 1
Combine marmalade, sauce, garlic, chilli and 2 tablespoons water in a medium frying pan over medium heat. Cook, stirring occasionally, for 4 to 5 minutes or until mixture thickens.
Step 2
Meanwhile, spray chicken with oil. Season with salt and pepper. Heat a barbecue hotplate on medium heat. Cook chicken for 5 to 6 minutes each side or until browned and cooked through. Transfer chicken to marmalade mixture. Turn to coat. Set aside.
Step 3
To make the peach salsa, combine all ingredients in a medium bowl. Season with salt and pepper.
Step 4
Sprinkle chicken with salsa and extra coriander. Serve with lime halves, beans and rice.