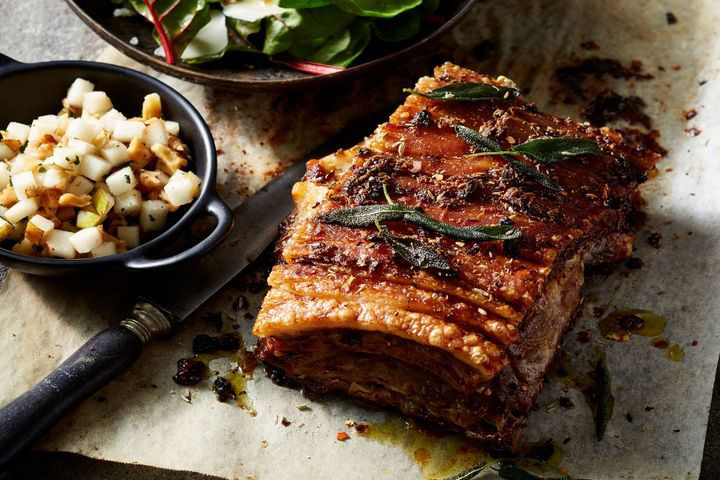 Fennel and chilli pork belly with pear and walnut salsa
INGREDIENTS
3 teaspoons fennel seeds
3 teaspoons sea salt flakes
2 teaspoons dried chilli flakes
2 teaspoons finely grated lemon rind
2 garlic cloves, crushed
1/3 cup extra virgin olive oil
1kg piece boneless pork belly, scored (see notes)
Vegetable oil, for shallow-frying
1/4 cup fresh sage leaves
2 corella pears, cut into 1cm pieces
1/4 cup chopped toasted walnuts
2 tablespoons white balsamic vinegar
80g mixed salad leaves
1/3 cup shaved parmesan
2 tablespoons lemon juice
1 teaspoon wholegrain mustard
METHOD
Step 1
Preheat a barbecue (with hood) grill and hotplate on high. Using a mortar and pestle, lightly crush fennel seeds, salt and chilli flakes (see notes). Reserve 2 teaspoons mixture. Add lemon rind, garlic and 1 1/2 tablespoons olive oil to remaining mixture, pounding to combine. Pat pork belly dry with paper towel. Rub garlic mixture all over pork.
Step 2
Turn off barbecue grill, leaving hotplate on. Place pork in a disposable foil baking tray. Place tray on grill. Cook pork, with hood closed and using indirect heat, for 30 minutes. Reduce heat to medium. Cook for a further 45 to 50 minutes or until cooked through. Remove from barbecue. Stand, covered, for 10 minutes to rest.
Step 3
Meanwhile, pour enough vegetable oil into a small frying pan to come 5mm up the side. Heat over high heat. Carefully shallow-fry sage leaves for 30 seconds or until crisp (oil will spit). Using a slotted spoon, transfer to a plate lined with paper towel to drain. Set aside to cool.
Step 4
Combine pear, walnuts, vinegar and 2 teaspoons remaining olive oil in a medium bowl. Crush 4 sage leaves and add to mixture. Season. Toss to combine.
Step 5
Place salad leaves and parmesan in a large bowl. Whisk lemon juice, mustard and remaining olive oil in a jug. Season. Drizzle over salad. Gently toss to combine. Sprinkle pork with remaining crispy sage and reserved fennel seed mixture. Serve with pear salsa and salad.