Win an Australia Day Luxury Hamper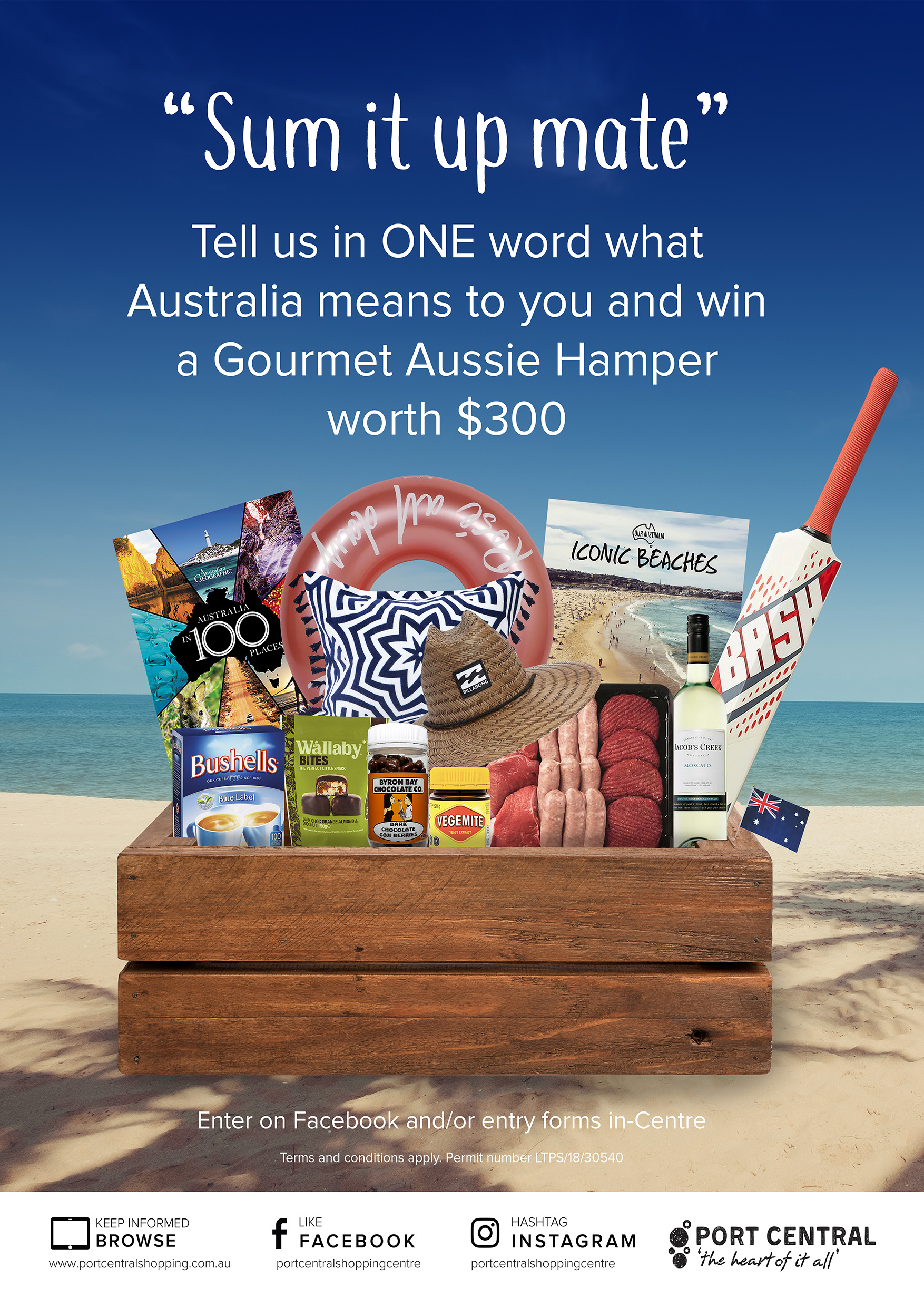 The Port Central Australia Day competition is now running! Tell us in just one word what Australia means to you, for your chance to win a Gourmet Hamper valued at $300.
Fill out an entry form at the concierge desk or jump on our Facebook page before the 24th January to 'Sum it up mate.'
Terms & Conditions: "Sum it up mate" Australia Day Promotion, 2019.
Competition opens Saturday 12th January 2019 and closes 3pm on Thursday 24th January 2019.
Prize is an Australia Day themed gift hamper from Port Central retailers valued at approximately $300.
The competition is a game of chance and the winning entry will be drawn by the Port Central Centre Management team on Thursday 24th of January at 4:30pm and their decision is final.
Each entrant must answer the question, "Sum up in one word what Australia means to you?"
Entrants can enter via:
Completing and submitting an entry form during the competition period at participating retailers in Port Central or at the Port Central Concierge Desk and/or
Commenting on the Port Central Australia Day Competition Facebook Post.
The winner will be drawn on Thursday 24th of January 2019 at 4:30pm at Port Central and will be contacted via phone and/or email. The prize will be available for collection by them at the Port Central Concierge Desk.
Directors, management, employees and their immediate families, suppliers and staff from the Shopping Centre stores are not permitted to enter the competition.
The prize or any part of it cannot be redeemed for cash.
The winner will be required to produce Proof of Identity to claim the prize.
The winner will be published on Port Central's website www.portcentralshopping.com.au
If the prize is unclaimed or unawarded, a prize draw will be conducted 3 months after the original prize draw on 24th April 2019 at Port Central at 4:30pm. The new winner will be notified by phone and/or email within 2 business days and published on Port Central's website www.portcentralshopping.com.au and this draw will be subject to these Terms and Conditions.
The prize winner's photographs may be posted on Port Central's website, Facebook, and Instagram accounts, in-Centre and may be used for publicity purposes – at Centre management's discretion.
The promoter of this competition is Gowing Bros Ltd. Suite 21, Jones Bay Wharf, 26-32 Pirrama Road, Pyrmont NSW 2009.
All entries become the property of The Promoter. When an entrant enters the competition, the entrant is automatically agreeing to receive electronic communications from The Promoter or The Prize Provider. They will be entered into a database and The Promoter or the Prize Provider may use the entrant's names, addresses, email and telephone numbers for future promotional, marketing and publicity purposes in any media worldwide without notice and without any fee being paid (unless otherwise advised by the entrant).
By entering this competition entrants confirm that they allow their details to be used and shared for this purpose. If entrants no longer consent to their details being used for future marketing purposes, the entrant should contact The Promoter. Any request to update, modify or delete the entrant's details should be directed to The Promoter.
The Promoter (including its respective officers, employees and agents) shall not be liable for any loss or damage whatsoever which is suffered (including but not limited to indirect or consequential loss) or for any personal injury suffered or sustained in connection with the Competition or any prize/s except for any liability which cannot be excluded by law.
These Terms and Conditions can be found on the Port Central website at http://portcentralshopping.com.au/.
NSW Permit Number LTPS/18/30540